Archive for November, 2020
Nov 30, 2020 Artist Updates
Available For Preorder Now, Album Features Planetshakers' Unique Interpretations Of Christmas Classics Alongside Original Songs
Daystar Television Network Globally Broadcasts Companion Video Dec. 22,
Christmas Down Under, Recorded Live From Planetshakers Australia
Amazon Prime Video Features It's Christmas Live Next Month
Internationally recognized praise band Planetshakers globally releases It's Christmas Live Nov. 27 from Venture3Media (V3M). Available to pre-buy / pre-save now at all major digital and streaming outlets, the recording celebrates Jesus and His coming to earth to bring us life, hope and freedom.
Recorded live in front of a packed auditorium at Planetshakers Church before the pandemic lockdowns, the full production recording and companion video was produced, directed and mixed by Joth Hunt at Planetshakers Studios. Combining Planetshakers' unique musical interpretation of classic favorites alongside its original Christmas songs, the new album is led by Hunt and worship leaders Rudy Nikkerud, Chelsi Nikkerud, Natalie Ruiz, Joe Vatucicila, Rachel Vatucicila, Kemara Fuimaono and Steve Sowden. The recording also features a 59-voice choir and multiple drum, guitar, bass and keyboard musicians.
"Christmas is a great time to remember what Jesus has done," says Russell Evans, Planetshakers Founder and Lead Pastor. "Despite what we may see around us or how we may feel, Christmas is a time where we can refocus our attention firmly on Jesus. God becoming man to save humanity!"
"The Christmas season is a wonderful time to celebrate the goodness of God," adds Hunt. "These songs are full of life and joy; great reminders of some of the blessings God has given to believers."
This all new live recording of Planetshakers' first-ever full-length studio Christmas album released last year highlights the David Foster and Carole Bayer Sayer-penned "The Prayer (Italian Lyric Version)" that is beautifully-delivered in a Natalie Ruiz and Joe Vatucicila duet. Other highlights include the lead track "Angels We Have Heard On High," which has additional lyrics by Hunt, the title track and original song "It's Christmas," co-written by worship leader and pastor Sam Evans, the jazz-inspired original offering "All Glory" featuring Hunt on vocals and piano, and the declarative original "Light of the World" spiced with rap vocals.
The new album's companion, 60-minute video special entitled, Christmas Down Under, Recorded Live from Planetshakers Australia, will be broadcast globally by Daystar Television Network, American's largest Christian TV network, beginning at 11:00 am CST / 12:00 Noon EST Dec. 22. Hosted by Planetshakers' Joshua Brown and Daystar's Rachael Lamb Brown, the special will not only feature all the new music from It's Christmas Live, but also a timely message from Pastor Evans.
Along with Daystar's Christmas Down Under presentation, Amazon Prime Video will further offer a special It's Christmas Live feature next month.
"Now more than ever before we need to make a deliberate decision to remember the joy of Christmas," says Joshua Brown. "The joy of knowing that Jesus, through his unconditional love, gave up heaven and came to earth to serve us, by giving His life, so we can take on His eternal life through Salvation."
The full It's Christmas Live track listing follows:
1. Angels We Have Heard On High (Live)
2. Joy To The World (Live)
3. It's Christmas (Live)
4. The First Noel (Live)
6. All Glory (Live)
7. Hark (Live)
8. O Holy Night (Live)
9. The Prayer (Italian Lyric Version) (Live)
10. Light Of The World (Live)
11. O Come All Ye Faithful (Live)
Along with the live recording, Planetshakers released its Over It All studio album earlier this month. The recording features 10 artfully crafted songs, all inspired by the hurt and the hope they see around them in this season. Sharing Bible-based, faith declarations, the album opens with the "247 365" principle of worship as the title track emphasizes that God is "Over It All" and the closing track, "The Great Outpouring," looks past the present pandemic, declaring that "revival is in the air."
All the latest Planetshakers music and more news can be found at Planetshakers.com, YouTube (1.12 million subscribers), Instagram (598,000 followers), Spotify (692,000 monthly listeners), Twitter (177,900 followers) and Facebook (over 1.64 million followers).
About Planetshakers:
Passionate, vibrant, relevant and powerful are all words that aptly describe the ministry and church of Planetshakers, founded by Russell and Sam Evans.
After a radical encounter with God, Russell established a conference called Planetshakers in 1997. The conference quickly became renowned for its passionate praise and worship, its ability to stir hunger in young people for encounters with God, and the frequent outbreaks of miracles, signs and wonders.
With a deep desire to see more people encounter Jesus and His tangible Presence, Russell and Sam founded Planetshakers Church in Melbourne, Australia, in 2004. In addition to the church, Planetshakers Ministries International has a significant global footprint— expressing the Planetshakers mandate, worldwide, through music and touring, international conferences and events, Planetshakers Bible College and working with governments around the world to bring systemic change.
Planetshakers is a church and ministry for all; everyone is welcome; in its Melbourne campus over 150 nations are represented with the primary desire being that people find the healing, breakthrough and provision they need as they encounter the tangible Presence of Jesus and His family, in a personal and life-changing way.
About Venture3Media:
Venture3Media is a global music label and song publisher with sales, marketing, promotional, radio, television and movie expertise. V3M provides distribution platforms across all digital channels, including but not limited to Spotify, Apple Music, iTunes, Amazon, Deezer, Tencent, 7Digital, Google Music, Facebook, Pandora, Tidal, Sirius and Rhapsody. Physical distribution includes online retailers such as Amazon, national retail chains, sub-distributors and internationally through well-established licensee's and distributors. V3M is excited to build a global ecosystem that serves the vision and heart of Planetshakers.
Nov 21, 2020 Artist Updates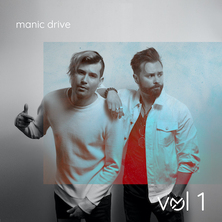 MANIC DRIVE to Release VOL 1 On November 20 Toronto, ONT – Juno Award-winning artists Manic Drive, consisting of brothers Shawn and Michael Cavallo, are continuing their musical journey with a series of volumes. Their first project, simply titled Vol 1 will release Friday, November 20, 2020, through a new partnership with The Orchard (owned by Sony Music). In sync with their new release date, Manic Drive will be hosting an interactive live-stream extravaganza titled "Virtual Experience". Ticket holders can witness Manic Drive's signature stage theatrics and high energy live show, while interacting live with the band. More information can be found here. After impacting 44 arenas on Winter Jam 2019 and topping multiple Billboard charts throughout recent years, Manic Drive has independently gained over 50 Million plays across streaming platforms. Their recent television and commercial success with NBC Universal, McDonald's, and top YouTube Channels (including "Dude Perfect" ) has also propelled Manic Drive into new territory as they expand their audience base through new avenues. Vol 1 will feature 6 new tracks produced by Joël Bruyère (Thousand Foot Krutch), including songs like "High Life" featuring Mr. Talkbox, internationally known for his collaboration with Bruno Mars' "24K Magic". The series of songs will take listeners on a journey from explosive high-energy anthems like "Champion," to somber, eye-opening moments as portrayed in their leading single "Thank God I'm Alive". In addition to the new songs, Manic Drive will be supporting this project with several new music videos set to release throughout the following months. Manic Drive's latest releases have already received strong online reactions, with their latest single "Champion" added to mainstream Apple and Spotify Editorial playlists. As of early November, their pre-released singles have already accumulated over 100,000 streams on Spotify alone.
It's no surprise that the recent events of 2020 have shaped Manic Drive's expression through music. With losses and gains in their immediate family and shifts in their music career, the dynamics are difficult to ignore. The result is an album full of honesty, merged with the band's signature edge-pop sound. Manic Drive's Vol 1 is the first of many volumes to be released in yearly increments and sets the pace of Manic Drive's musical direction.
Nov 3, 2020 Artist Updates

New Combination Daily Devotional & Self-Care Guide from Hay House Publishing Distributed by Penguin Random House Publisher Services Hit No. 1 on Three Amazon Charts in Pre-Release
Author of Publishers Weekly / Wall Street Journal / USA Today / Amazon Best-Selling Book, Chris Beat Cancer, Offers 365 Days of Inspiration, Encouragement, and Action Steps to Survive and Thrive
NASHVILLE, Tenn. (October 27, 2020) – After dominating multiple Amazon sales charts in pre-release, best-selling author Chris Wark's new book, Beat Cancer Daily: 365 Days of Inspiration, Encouragement, and Actions Steps to Survive and Thrive, is available today, October 27, 2020, in both hardback and ebook formats. Published by Hay House Publishing and distributed by Penguin Random House Publisher Services, Beat Cancer Daily is available wherever books are sold.
In the weeks prior to its release, the latest from the internationally acclaimed speaker, health coach, and patient advocate claimed the top spot on not one, but three of Amazon.com's Hot New Releases charts.
Following on the heels of his 2018 Publishers Weekly, Wall Street Journal, USA Today and Amazon best-selling debut book, Chris Beat Cancer, the hardcover version of Beat Cancer Daily claimed the No. 1 spot on the online retailer's New Releases in Breast Cancer, New Releases in Prostate Health, and New Releases in Prostate Disease charts.
"The early response to the book has been overwhelming," says Chris. "I'm so excited the day has come to share it with the rest of the world."
Best-selling author Chris Wark's innovative new book, a combination daily devotional and self-care guide, Beat Cancer Daily, releases today, October 27, 2020. The book, from Hay House Publishing and distributed by Penguin Random House Publisher Services, has already hit No. 1 on three Amazon.com best-seller charts in pre-release. (Hay House Publishing photo)
The groundbreaking book is primarily derived from Wark's own journey with cancer and healing, along with his worldwide health coaching work. It is a combination daily devotional and self-care guide, featuring transformational nuggets of scripture, health, nutrition and detox advice, inspiration, encouragement, and practical actions for surviving life's difficult storms.
"My cancer journey changed my life and taught me invaluable lessons about life and death, faith and fear, self-care and survival," says Wark. "Over the last 16 years, I've had the privilege of studying and learning from many other survivors, doctors, and experts."
Wark has poured his hard-earned wisdom into 365 chapters, each focused on promoting physical, mental, emotional, and spiritual health.
"Every day is an opportunity for change and growth," Wark says. "The intention of this book is to help you work through the process of radical life change—to help you make your life simpler, yet richer. To help you take control of your health, to help you face your fears, to help you fan the flames of faith, to help you let go of the past, and to help you embrace the present and be hopeful about the future."
At a time when the future is so uncertain for so many people due to the coronavirus and societal unrest, Beat Cancer Daily is a timely and practical lifeline for cancer patients, caregivers, and others experiencing the ill-effects of such a stressful season.
A survey of cancer patients conducted by the American Cancer Society in May 2020 found that 87% of respondents were impacted in some way by COVID-19. The pandemic presents cancer patients and caregivers with new challenges, from delays in treatment therapies like chemotherapy to limited access to appointments and imaging services. Such circumstances lead to increased levels of anxiety, depression, worry, and fear, which leads to much worse cancer outcomes.
Wark's emphasis on developing healthy habits to strengthen mind, body, and spirit is also proving helpful to those who may not have cancer but are suffering from chronic illness, including anxiety and depression, both of which are on the rise amid the pandemic.
Beat Cancer Daily shares simple, practical habits for individuals to implement into their daily routine to counter today's toxic environment's negative impact. And it is a timely reminder of the power of the mind and its effect upon physical health—specifically, how self-talk can be a constructive or destructive force.
"Your own words can build you up or tear you down. They can create an atmosphere of peace or one of disharmony," says Wark. "Pay attention to the things you say to yourself and choose to speak words of life over your body and your situation."
In addition to mindful self-talk, Beat Cancer Daily focuses on removing those things from our lives that contribute to toxicity and interfere with a healing lifestyle and mindset. Wark suggests eliminating alcohol and tobacco, pharmaceuticals, switching to a plant-based diet, filtering your water to remove toxins, and replacing personal and home-cleaning supplies with organic or non-toxic brands. Step-by-step, Wark walks readers through small, effective choices they can make to increase their chance of defeating cancer or other chronic illnesses.
"A healing mindset takes fortitude, faith, courage, and acceptance of support when you need it most," Wark says. "As a cancer survivor, I understand the daily struggles involved in healing from cancer. It's a battle," Wark says. "But it's not so much a battle in the body as it is a battle in the mind. In order to heal your body, you must first win the battle in your mind. Changing your thoughts will change your life."
Beat Cancer Daily helps readers approach every aspect of their healing with purpose. Filled with scriptures, healthy-eating tips, ways to hold on to hope, guidance on simplifying life, and encouragement to find gratitude in the present, the book is the daily support people need—whether they have cancer or not.
"Embrace the challenge and know that you have the divine guidance and power to prosper—mentally, physically, emotionally, and spiritually," says Wark. "Your future will be better than your past, better than you can even imagine."
In his book, Wark advocates developing other important Beat Cancer Daily habits, including:
• Spending time in the Bible • Spending time in prayer and meditation • Giving your fears and worries to God • Practicing gratitude • Choosing to think positively • Forgiving everyone who has ever hurt you (including yourself), and forgiving new offenses quickly • Getting eight or more hours of sleep each night • Eating 10-plus servings of fruits and vegetables per day • Juicing • Exercising
In 2003, Wark was diagnosed with stage IIIC colon cancer. Following his physician's advice, he underwent surgery, which removed a golf-ball sized tumor…and a third of his colon. At that point, Wark had a decision to make: follow the traditional treatment of chemotherapy or embark on a radically different path of altering his diet and lifestyle in an attempt to allow his body to heal itself.
Wark chose the latter course of action and documented his remarkable story in his best-selling debut book, Chris Beat Cancer, released on September 25, 2018, from Hay House Publishing.
As he continues his own journey to wellness, Wark encourages others to take their challenges one day at a time.
"This book will challenge you in the best way possible," says Wark. "It will challenge you to examine your life from every angle, to think differently, to push through resistance, and to take massive action. I didn't just write this book to help you; I wrote it to help me, too. Even though I don't have cancer anymore, I need this encouragement, advice, inspiration, and motivation every single day, just like you. Don't get discouraged by what you can't do. Focus on what you can do and do those things. Do the can-dos now and chip away at the can't-dos along the way. My prayer for you is that you prosper in good health even as your soul prospers. And that you beat cancer daily!"
For more information, visit chrisbeatcancer.com/beatcancerdaily.

About Chris Wark: Author, speaker, and health coach Chris Wark was diagnosed with stage IIIC colon cancer in 2003 at 26 years old. He had surgery, but instead of chemotherapy, he used nutrition and natural therapies to heal himself with God's help. Since then, Chris, who began lecturing at smoothie bars, hospitals, churches, culinary schools, and Whole Foods Markets, has become a best-selling author and a sought-after speaker at health and wellness events around the world.
Wark has made many appearances on radio and television, including The 700 Club; Hallmark Home & Family; Cornerstone TV's flagship show, Real Life; nationally syndicated radio show Bill Martinez Live!; KSBJ's Sunday Night Live with Kim Weir; The Ricki Lake Show; The Lisa Oz Show; Charisma Media's Hope Through Cancer podcast; and more. Wark was also featured in The Truth About Cancer docu-series and in the documentary film, The C Word.
Author Chris Wark announces the release of his new devotional book, Beat Cancer Daily, from Hay House Publishing and Penguin Random House Publisher Services. (Chris Wark photo)
Wark inspires countless people to take control of their health and reverse disease with a radical transformation of diet and lifestyle. For more information, visit chrisbeatcancer.com.
About Hay House Publishing: Hay House was founded in 1984 by Louise Hay as a way to self-publish her first two books, Heal Your Body and You Can Heal Your Life, both of which became international best-sellers (You Can Heal Your Life sold more than 35 million copies worldwide) and established Louise as a leader in the transformational movement.
Today, Hay House is committed to delivering products and services that empower and educate the individual, while helping to heal our planet. In 1987, Hay House was incorporated and began full-scale operations. It now publishes books, CDs, DVDs, calendars, and the well-known card decks that are part of its beautifully illustrated and conceived Lifestyles line.
Hay House Publishing books are distributed through Penguin Random House Publisher Services.
For more information, visit hayhouse.com.